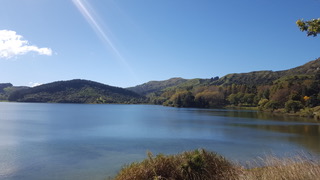 Catch the free bus to Lake Tūtira to hear historical kōrero and put your aroha back into the whenua and help Lake Tūtira heal. This event is a collaboration between MTT and Poutiri Ao o Tāne.
Please book by Wednesday, 8th Aug to get a seat on the bus from one of the pick up sites below. This event is open to extended whānau and friends.
• Contact for Bus Bookings is Melissa Brignall-Theyer mbrtheyer@doc.govt.nz or phone (06) 834 4858 or phone/txt 027 886 2151
• Lunch will be free and provided for those who have booked. Please let us know if you have any specific dietary requirements.
• Wear appropriate clothing for the weather and bring extra layers and rain gear, just in case.
• Bring your own spade, shovel etc.
• DON'T FORGET YOUR MEDS IF REQUIRED
• If postponed for some reason we will send out another Panui and let those already
booked know.
PROGRAMME:
8.00am Free Bus departs Whakatu depot.
8.30 Same bus then departs MTT Office, Ahuriri opposite Hot Chick
8.45 Same bus then departs Bay View BP Station
9 .00 Same bus leaves Tangoio Settlement Road
9.30 Bus arrives Lake Tutira
9.35 Karakia, Health & Safety, Tutira Korero and Hau Ora korero
12.00pm Lunch (free for those booked)
12.30 Planting
3.15 Korero / Karakia Whakamutunga
3:30 Bus departs Lake Tutira for home