Piki Te Ora - Recovery and Restoration
For information on our journey of recovery and restoration after Cyclone Gabrielle, please click here.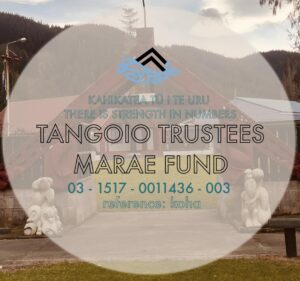 Tangoio Marae is the marae of Marangatūhetaua (also known as Ngāti Tū), Ngāi Tauira, Ngāti Kurumōkihi (formerly known as Ngāi Tatara), Ngāi Te Ruruku (ki Tangoio), and Ngāi Tahu.
The marae is the centre of Hapū life.  Hui (gatherings), celebrations and tangihanga (funerals) are all held at the marae.  If you are planning to visit Tangoio Marae, but are not familiar with the tikanga (protocols) of visiting a marae, take a look at our section on pōwhiri (traditional formal welcome).
Physical Address: Tangoio Marae, 1 Tangoio Settlement Road, State Highway 2, Tangoio, Napier, Hawke's Bay
Whānau, friends and organisations may book the marae for events.  If you would like to make a booking, please contact Mary Martin:
Phone: 0220949312

Email: mfc2296@gmail.com
The Tangoio Marae Trustees are:
Hōri Reti

Evelyn Ratima

Diana Taunoa

Janice Stevens

Denise Taunoa

Mary Martin
The Marae Charter sets out the roles, responsibilities and accountabilities of the Trustees and the terms of the Tangoio Marae Trust.
Tangoio Marae Executive Committee
Tangoio Marae is managed by an executive committee.  The members are:
Chair | Hōri Reti
Secretary | Evelyn Ratima
Treasurer | Diana Taunoa
Marae Day-to-day Operations | Denise Taunoa
Marae & Urupā Maintenance | Mutu Spooner
Cultural Services | Evelyn Ratima
Marae Bookings | Mary Martin
Donating to Tangoio Marae
If you would like to make regular donations to Tangoio Marae to assist with maintenance and running of our Marae, please contact our Treasurer. We currently have whānau donating $10 per month, but our Marae would appreciate any amount you would like to give.
Marae Options Project
The purpose of the Marae Options Project was to explore options to relocate our Marae or develop our Marae at the current location. It was run by a committee of the Maungaharuru-Tangitū Trust (i.e. different from the Marae Committee). For more information please see 
the webpage
.
Marae Development Project
The purpose of the Marae Development Project is to action the outcomes of the Marae Options Project.  This includes strengthening the existing western stop bank, building a new wharekai, improving site drainage, and repairing and upgrading existing buildings.  For more information click here.